Baby Back Ribs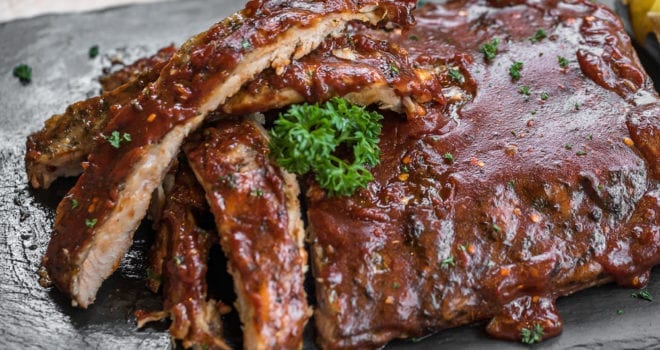 Ohio has its fair share of summer rib cook-offs, but why not have one of your own for the family right at home? Our head chef Joseph Stranan shares his favorite baby back rib recipe that yields flavorful and tender ribs made right in the oven, then topped off on the grill for some caramelized goodness!
Ingredients
1 rack of baby back pork ribs
1 cup brown sugar
2 tbsp. chili powder
2 tbsp. kosher salt
1 tbsp. black pepper
1 tbsp. ground cumin
Directions
1. Preheat oven to 275 degrees. Mix all dry ingredients (brown sugar, chili powder, kosher salt, black pepper, and cumin) together.
2. Massage dry mix into both sides of the ribs.
3. Place ribs in a baking pan and add 2 cups of water to the bottom of the pan.
4. Bake at 275 degrees for approximately 2.5 hours, or until ribs are slightly tender.
5. Remove ribs from pan and allow them to cool to room temperature.
6. Cut ribs into desired pieces and cover in your favorite BBQ sauce.
7. Place the ribs on the grill until ribs are hot and the BBQ sauce has caramelized to the ribs.
8. Serve and enjoy!
Learn More About Senior Living
The Inn at Belden Village strives to care for our residents just like we would our own family, and part of that loving hospitality is providing delicious and healthy meals daily. To learn more about senior assisted living at The Inn at Belden Village, contact us or schedule a free lunch and tour of our facility!