Sausage Lentil Soup… for the Soul!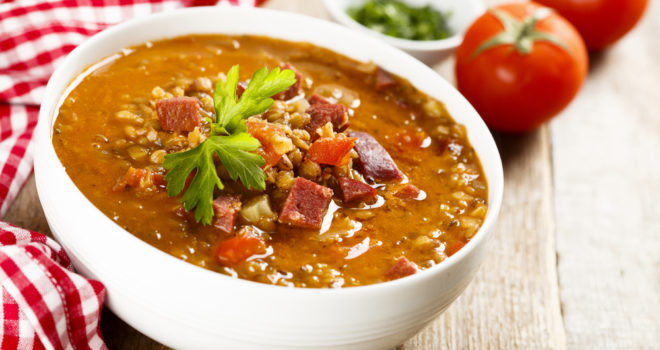 Sausage Lentil Soup
Winter is the perfect time for some warm, delicious soup. This Sausage Lentil Soup recipe from our chef Joseph Stranan is nothing short of comforting and delicious, plus it freezes well for additional meals later on! There's hardly any prep work for this soup, so you can start including it in your weeknight meal rotation. Let's get started…
Note: This is a large batch of soup that will feed about 20 people. For a smaller batch, cut ingredients down accordingly.
Ingredients:
Directions:
1. In a food processor, combine carrots, celery, onions, and garlic. Set to dicing mode.
2. Dice pancetta into 1/4 inch pieces.
3. In a large pot, sauté carrots, celery, onions, garlic, and pancetta until softened (about 10 minutes).
4. Add the sausage and cook until browned.
5. Add the remaining ingredients to the pot and bring to a boil.
6. Reduce heat and cover. Cook for 30-40 minutes, or until lentils are softened.
7. If desired, sprinkle with parmesan cheese and serve.
Pro Tip: For a thicker soup, puree 1 cup of the soup in a food processor and add back into the soup. This allows you to thicken the consistency without compromising the flavors of the soup.
We hope you enjoy the soup as much as our residents do! Be sure to check back next month for another one of Chef Joseph's yummy recipes. To learn more about chef prepared meals at The Inn at Belden Village, click here.