Beauty, Barber Shop & Spa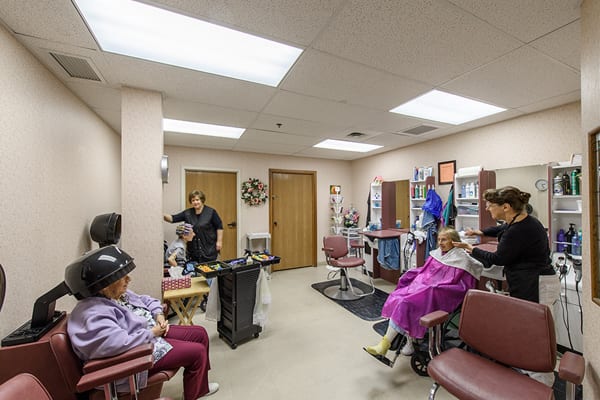 Residents can look their best by using our beauty and barber services. Our convenient in-house salon at The Inn at Belden Village makes life easier, as well as providing a pampering time for our residents. They can enjoy a fresh haircut or a life-changing color and perm without leaving the property.
Enjoy the Grooming Assistance Available in Our Beauty & Barber Shop
Often our rehabilitation patients find it difficult to shampoo and style their own hair. We understand how difficult this movement can be. We are pleased to provide this service in a convenient location. A little help with a shampoo and style is so appreciated and part of the healing process during rehabilitation.
Schedule Your Transformation
A complete in-house salon is available for use during the week. Appointments can be scheduled with our professional stylist. The stylist's hours of service are from 9am-2pm on Tuesday through Friday.
Find a Complete Line of Hair Services at a Reasonable Cost
Men and women can come in and enjoy the special treatment from a licensed, trained professional. For a nominal cost, residents can transform their look with the following provided services:
Shampoo and Set – $14.00
Women's Cut – $11.00
Men's Cut – $8.00 and up
Perms – $42.00
Color – $40.00
Color Rinse – $2.00
Attend Your Appointment With the Assistance of Our Caregivers
Forgetfulness is not a problem. Our caregivers remind residents of their appointments. We avoid the embarrassment of missed appointments.
For those who need assistance to and from their beauty and barber appointments, our caregivers are available and happy to help. They personally escort residents to the salon by picking them up and then, returning them to their rooms.
Residents leave the salon looking and feeling great! This is only one of the many community amenities we offer.
Manicures are offered free of charge by our Activity professionals weekly.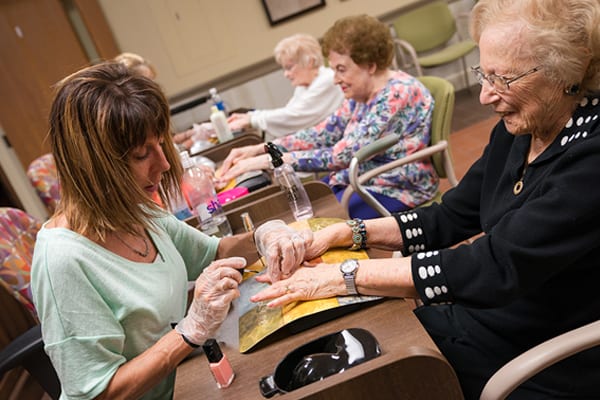 For more information about our Beauty & Barber Shop services or to arrange a tour of our community, contact us.
Spa & Whirlpool
Treat yourself to a relaxing spa session and a dip in the whirpool. Taking time out your day to unwind is a great practice for your overall well-being, and we have the spot just for that in a convenient location. Our trained staff are here to provide a soothing spa experience for our residents.
Massotherapy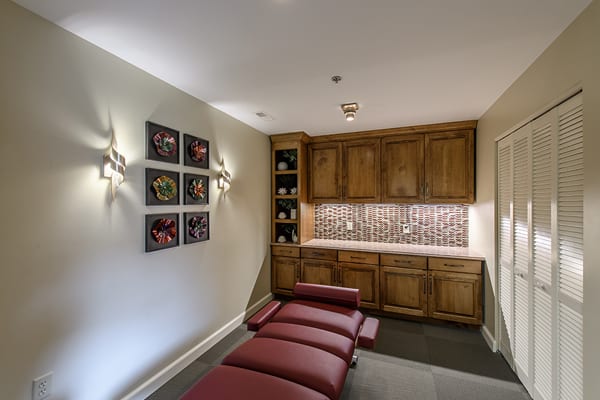 The goal of massotherapy is to treat the whole body to foster a stress and pain free state of being. Our professionally trained massage therapist will get to the root of your pain and help ease that stress on your muscles and back through massage. Massage therapy is available by appointment.
Contact The The Inn at Belden Village to learn more about our spa services, or to schedule a tour of our facility.