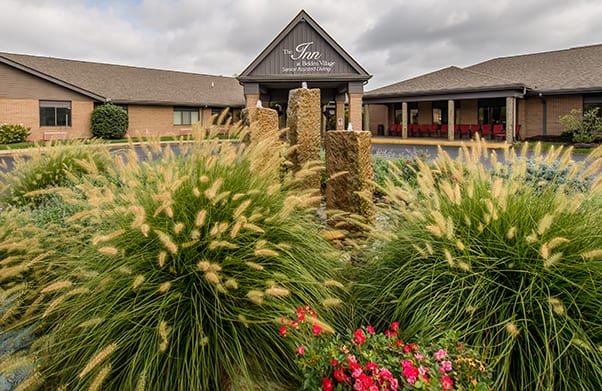 The Inn at Belden Village is located in the heart of Stark County and offers top-notch care, luxurious amenities and loads of activities in a secure, home-like environment. Our Senior Assisted Living Residence is fully licensed by the state of Ohio and offers 101 private suites and 29 Special Care suites in four different sizes. The Inn at Belden Village is an assisted living community unlike any other. We are a mission of the Cathedral of Life Ministries to senior residents of the area. We were established to provide care, comfort, and compassion to the local senior population who has physical or memory care needs. Through The Inn's ample activities and social programs, residents can celebrate their lives in style without the burden of caring for everyday duties.
Our experienced staff makes the difference. Each member of our team exhibits Godly care and concern for each resident to brighten their lives and give them dignity. We recognize that each resident wants independence while receiving just the care they need. A nurse and care giving staff are on site 24-hours a day to help with mobility, dressing and bathing, medication administration, cognitive orientation and direction, and more. Our trained and compassionate staff gives as much assistance as one wants, as little as one needs while carefully preserving dignity.
For our residents suffering from memory impairment, dementia or Alzheimer's we have a nearly identical wing that offers added security for your loved one. Our Dementia/Alzheimer's wing provides friendly supervision and the latest technology including the Vigil Security system that has been designed expressly for dementia care communities.
Notice the Difference in the Founding of The Inn at Belden Village
The Inn at Belden Village was a vision of Dr. C. Herschel Gammill, founder of Cathedral of Life Ministries, Canton, Ohio. He felt called to develop an area ministry that met the spiritual, intellectual and physical needs of youth, adults and seniors.
Dr. C. Herschel Gammill
Over the course of forty years of ministry, Dr. C. Herschel Gammill had been concerned about the conditions that he witnessed while visiting parishioners in nursing homes. He dreamed of building a home that would provide the environment and care they so deserved.
For eleven years, he prayed for guidance about how to develop a local campus to meet these needs. When the Inn opened in November 2000, his message to the staff at the Inn was "If you are ever in doubt about what to do for a resident, consider what you would do if it were your mother and father? Then do exactly that, in love."
See the Difference in Our Assisted Living Community for Yourself
The reason we exist is to bring glory to God in the care we provide. It is our mission and philosophy. Come and see the difference for yourself. Look at What Our Residents Say to see ratings from residents and their families. Contact us for a tour. If you like what you see and wish you were a part of this mission, we do have employment and volunteer opportunities available, too.