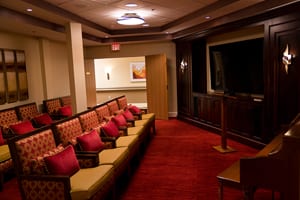 Owned and operated by Cathedral of Life Ministries, the spiritual life of our community is very important to us. The Inn at Belden Village understands that our residents come from a variety of religious backgrounds. Therefore, we provide an atmosphere with a variety of venues in which they can worship and grow spiritually. Residents can attend weekly and monthly worship services, as well as, other religious activities. In addition, they can watch programs on television, listen on the radio or read newspaper publications for their spiritual growth.
We encourage the spiritual wellness of our residents with many spiritual activities offered. These spiritual activities are added to our senior activities calendar for the use of all our residents. Our regular schedule of religious activities is:
Sundays
We provide church services for worship and edification for our residents both in The Inn and at the adjacent church, Cathedral of Life. St Michael's provides Mass and communion services monthly.
Attend Services at The Inn at Belden Village's Chapel
8:45 AM Communion
9:00 AM Sunday School
2:00 PM Chapel Services
Attend Services at the Cathedral of Life Church
9:00 AM Worship Service
11:00 AM Worship Service
6:30 PM Worship Service
Mondays
Residents can enjoy learning about the Bible in a small group Bible Study:
1:30 PM Feed Your Soul Bible Study
2nd Tuesday of the Month
Catholic services are available for our Catholic residents.
10:30 AM Catholic Communion Service
2nd Friday of the Month
Mass is offered monthly for our Catholic residents.
Enjoy our Weekly Television Outreach Program
Pastor Dana of Cathedral of Life's "Keys for Successful Living" Outreach Ministry: Television Outreach is available for viewing:
Thursdays at 11:30 AM on Canton Cable Trinity Broadcasting Network Channel 17
Sundays at 10:30 AM on Massillon Cable Trinity Broadcasting Network Channel 2952
Listen to our Daily Radio Outreach Program
Our radio program is available for anyone who wants to hear it:
WHK 1220 AM Weekdays at 12:30 PM
WNPQ 95.9 FM Weekdays at 12:00 PM
Read Weekly Devotionals in the Canton Repository Newspaper
Current religious readings are made available for anyone who wants them.
Fridays in The Canton Repository
In The Ticket: Keys for Successful Living Devotional by Pastor Dana Gammill from the Cathedral of Life Church
Sunday TV Guide: Keys for Successful Living Devotional by Pastor Dana Gammill