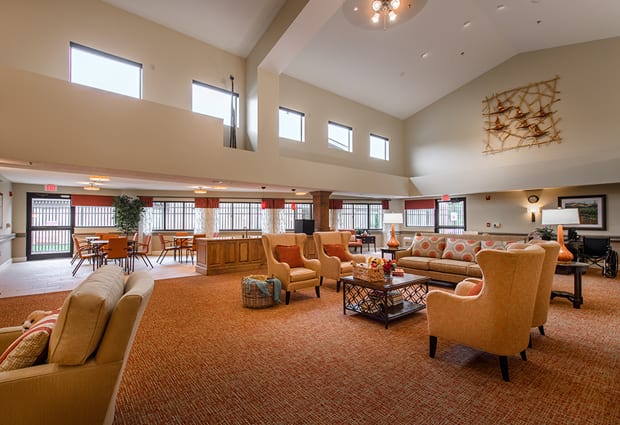 When your loved one has dementia or Alzheimer's and needs memory care, it is a 24 hour job. While these diseases signal change is ahead, they do not have to mean the loss of dignity, fun, daily activity and independence. Our caring and experienced staff is trained to understand, empathize and personalize assistance to your loved one. Special attention is devoted to understand the unique needs of each resident, then provide a holistic approach to care in a safe, pleasant and secure environment where physical, emotional and spiritual wellness can flourish.
Specially trained Alzheimer's and Dementia care staff
Non-intrusive, state-of-the-art monitoring system
A perfect balance of maintained dignity and loving attention
Activities designed for all stages of dementia, including interactive art, life stations, social interaction, computerized memory games and much more
Program focus of personalized care to improve quality of life
Improve Their Quality of Life with Advanced Technology — 24 hours a Day
We designed our community to look and feel like home. We wanted a monitoring system for our Special Care Community that was less intrusive, more effective, one that provided our Special Care residents a high level of privacy. Our goal was to implement a monitoring system that would allow our Special Care residents to maintain their privacy yet would alert caregivers to the extraordinary attention our Special Care residents require.
We found a system that is non-intrusive and state-of-the-art. It also allows our caregivers to provide the highest degree of personalized care and improves the quality of life of each resident. The system is called Vigil.
Rest Assured that We Preserve Their Dignity
We treat your loved ones as if they were our parents. We are prepared to care for them through the good times and the bad, preserving their dignity and reducing their embarrassment. Our staff is trained in dementia care and Alzheimer's care for patients with symptoms like:
Disorientation
Forgetfulness
Agitation
Hallucinations
Incontinence
Paranoia
Repetitive speech or actions (perseveration)
Shadowing
Sleeplessness / Sundowning
Verbal outbursts
Wandering
Disinterest in personal care
Difficulty Balancing
Difficulty Communicating
Give Your Loved One the Freedom to Age Gracefully
If this sounds like the kind of help you need, contact us for a free tour and lunch. Talk with our professional staff about the difference we could make in your loved one's memory care.