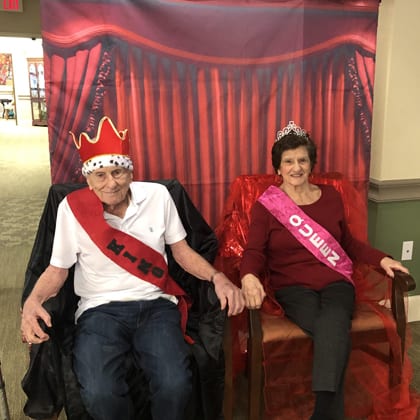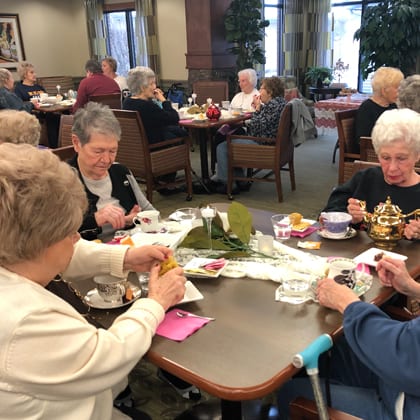 Everyone comes to The Inn at Belden Village with special talents, skills and interests. We want to give you opportunities to share those talents with other residents or continue to build them yourself.
Therefore, we continue providing opportunities that get our residents out of their rooms, involved, and socializing with other residents. Remaining active, enjoying lifelong activities and developing new interests are important to emotional health and well-being.
With our huge list of senior activities, there is something for everyone to enjoy. We change our calendar every month in order to provide a stimulating selection. Here are some examples of things to expect.
Continue Old Interests or Find New Ones
We have an opportunity to share hobbies with each other as well as to learn new techniques in our activity classes like:
Cooking and baking classes
Gardening
Hobbies and crafts
Sewing
Euchre Club
Bingo
Stimulate Your Mind
You are never too old to learn something new. That is why we offer thought provoking classes and presentations for our residents. Popular ones are:
Bible studies
Educational presentations
Keep in Shape
Easy stretch exercises stimulate the body and the mind. We offer daily exercise classes to keep our residents moving, as well as the following clubs and amenities:
Walking Club
Health & Wellness Room
Travel Outside The Inn at Belden Village
We offer chauffeured trips 3 days a week that our residents can schedule for themselves with a 24 hour notice, but our activities office also plans group trips on Mondays and Fridays including:
Boat and train rides
Dining out excursions
Shopping
Find Fun Activities for All to Enjoy
Our residents enjoy game time as well as movies in our cinema. We offer:
Bingo
Live entertainment
Speakers
HDTV cinema movies
Euchre, bridge, board games and more
Relax With Outside Entertainers and Speakers
Whether it is a children's choir or a Frank Sinatra imitator, we welcome special performances year round. Popular events include:
Holiday celebrations, buffets and events
Special Performances
Live entertainment
Speakers
Each month The Inn at Belden Village provides a calendar with all the activities available. You can find it by clicking here.