Enjoy Our Beautiful Chapel and Theater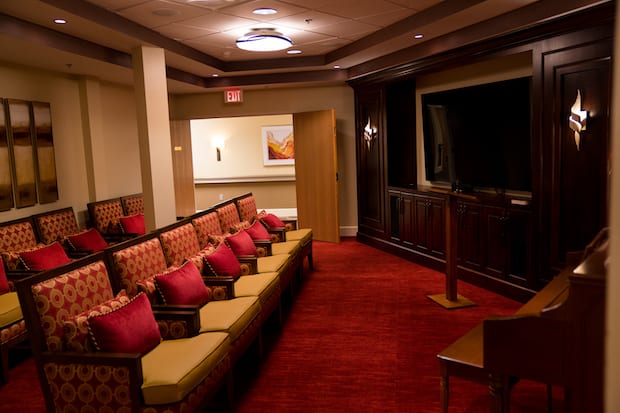 The Inn at Belden Village has a beautiful Chapel and Theater located in the center of the community off our Hub area for the convenience of our residents. Both are open 24 hours a day. These are only two of our many community amenities available for our residents.
Gather for Religious Functions in Our Chapel
Our chapel provides a special atmosphere for the spiritual activities that are offered. All denominations are welcome at The Inn at Belden Village. Priests, rabbis, ministers and pastors meet with our residents. The chapel is a perfect location for:
Bible study
Worship services
Sunday school
Catholic Mass
Communion
Special gatherings
Find the Books You Like to Read at Our Library
Our library provides a quiet area for hours of reading pleasure. Our selection is endless. We have a number of ways to find the type of books you enjoy reading or listening to:
Our shelves are filled with books on a wide variety of subjects
We can get almost any book you want through The Stark County District Library, who regularly delivers books to our community. Special requests can be made in advance for specific genre, authors, or titles. They, in turn, have resources with other libraries.
If vision is a problem, try an audio book. The Philomathean Society provides audio books through their library.
We also offer low-vision amplifiers for those with visual impairments, enabling them to read books on-site.
The Inn at Belden Village has a community computer, and internet access is available throughout our community. Residents can have their own computers and tablets connected to the Internet to search for information they need.
Enjoy Our Nooks and Crannies
Of course, books can be checked out and go back to the resident's suites for reading, but there are also many enjoyable locations to read throughout The Inn. In addition to our library, residents can read in our TV room off the Hub, in lounge areas in each corridor, outside in the summer, or other cozy areas within our hub and commons.
Contact us for further information on our chapel or library or to arrange a tour.