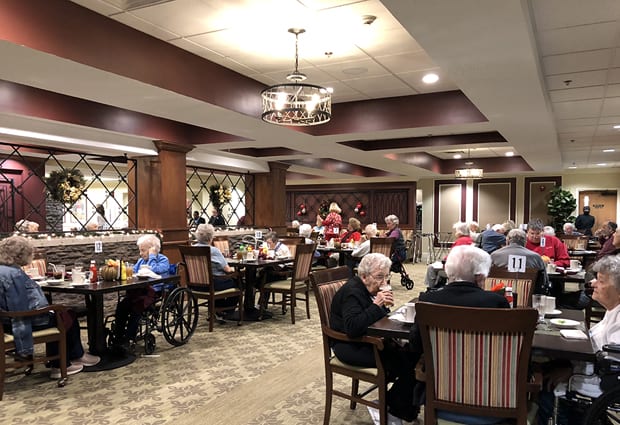 Residents are served three complete, delicious meals prepared daily by our chef. To ensure our meals are nutritious and well-balanced, a registered dietician works with our chef in the meal planning.
During each meal, residents can choose from a variety of selections. Careful attention is given to those on restricted or special diets.
The Canton Repository newspaper gave The INN enthusiastic reviews!
Enjoy Nourishing Meals in Our Modern Dining Room
Our beautifully decorated dining room provides a warm, welcoming atmosphere where residents can share their delicious, healthy meals together. Our dining room staff cheerfully serves all meals.
The dining room is open, and meals are served during the following times:
Breakfast – 7:30 to 9:00 A.M.
Lunch – 11:30 A.M. to 1:00 P.M.
Dinner – 4:30 to 6:30 P.M.
Eat the Food You Like
Upon arrival at The INN, residents are given a printed copy of our breakfast menu cycle. Each morning, residents can choose from a wide variety of breakfast foods. Weekly printed menus are distributed with the list of lunch and evening meals.
Daily menus are also posted in the lobby and brought to resident's room's before the beginning of each week. Residents may choose between this menu and one of the over 20 items off Our Always Available Menu for lunch and dinner daily.
Have Your Food Delivered to Your Room
We realize there are times when residents become ill and are unable to travel to our dining room and eat their meals. During these temporary illnesses, meals will be delivered to individual suites.
Ask Your Guest to Stay to Eat
Guests are always welcome to dine with our residents. For a nominal fee, they can enjoy the meal in our dining room. Guests may pay the receptionist before proceeding to the dining room.
Request Our Private Dining Room for Special Occasions
Special occasions are meant to be shared with family and friends. We realize the need for privacy; so, The INN has a beautiful private dining room complete with a kitchen where food can be prepared. Reservations may be made with the receptionist.
For an additional nominal charge, our staff will prepare and serve meals, as well.
Enjoy Our Evening Snacks
Snacks are provided each evening, Our friendly staff circulates from room to room with a snack cart filled with a variety of choices. A continental breakfast is also available for the next morning.