Inside Visitation Guidelines
The Inn at Belden Village is pleased to announce that inside visitation is now available! Please see our state-mandated safety guidelines below.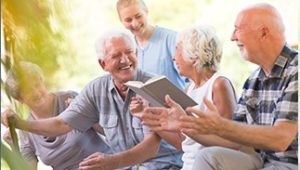 Updated March 19th, 2021
The Inn at Belden Village allows scheduled indoor visitation for all residents as follows:
All visitors must call in advance to schedule visitation. 2 Visits will be scheduled per time period.
Morning: 9:00, 9:30, 10:00, 10:30, 11:00
Afternoon: 1:00, 1:30, 2:00, 2:30, 3:00, 3:30, 4:00
Evening: 6:30, 7:00, 7:30, 8:00
All Visitors shall be screened for Covid-19 exposure and symptoms prior to entry at the front entrance.
Visitation times will not be restricted during common visitation timeframes and are no longer limited to 30 minutes.
Social Distancing must be adhered to during all visits.
Surgical Masks provided by The Inn at Belden Village must be worn by residents and visitors during the entirety of the visit.
Residents and Visitors must sanitize their hands before their visit and before exiting the resident's room or designated visitation area.
Only two visitors are permitted per resident if the visit is conducted in the visitation room or their suite.
Vaccinated Residents may hug their loved ones if both parties are masked and sanitize their hands after.
If more visitors are desired on special occasions, the private dining room may be reserved on a first come first served basis, but the group size cannot exceed six to allow for six-foot distancing.
The visitor's maturity must be such that he/she can adhere to mask-wearing and social distancing.
Visitors choosing to conduct their visit in their loved one's suite, must go directly to their loved one's suite after being screened, ensure that he/she maintains a six-foot social distance from all other staff and residents while in route and remain in the resident's room for the entirety of the visit. Visitors may take the resident outdoors through the front entrance following the same guidelines and ensuring that a six-foot distance is maintained from others while outdoors.
Visitors of unvaccinated residents will be tested with a rapid antigen test and must test negative prior to visitation, at his/her expense. Tests may be paid for with cash or check only. Test results are good for only four days. Please take a picture of your test results prior to beginning your visit, so you may demonstrate them to the screener for subsequent visits in the next four days. Test results from outside providers are acceptable but must be demonstrated to the screener. Evidence of a positive test result within 90 days or demonstration of a Covid-19 vaccination card within six months, will relieve unvaccinated resident's guests from the testing requirement.
All individuals and personnel must be screened for COVID-19 each time they enter the facility. using Screening guidance available from the U.S. Centers for Disease Control and Prevention (CDC) and Centers for Medicare and Medicaid Services as well as from the Ohio Department of Health (ODH). Per the CDC, screening should include questions about exposure to COVID-19 and assessing the visitors and personnel for cough, shortness of breath, and body temperature of 100.0 degrees Fahrenheit or higher. This Order does not apply to exigent circumstances, to emergency medical services, first responders, and similarly situated individuals.
The Department of Health recommends that residential care facilities, where possible, have a designated entry point. The Front Entrance and C Wing Exit will be the only points of entrance for visitation. This does not apply to emergency ingress or egress of the community.
ALL Individuals granted access to The Inn at Belden Village by order of ODH must produce legal federal or state identification or other satisfactory forms of identification, or be a person known to the Screener. The individual should provide the Home with business telephone number and address. It is the responsibility of the Homes to log each visitor including telephone number and address. The log shall be retained in accordance with state and federal record retention requirements.
Residents must be allowed to discharge from Homes at any time and in accordance with applicable state and federal law, understanding that residents that then return to the Homes while this Order is in effect are subject to the directives above.
Indoor Visitation 'Limiting Conditions'
Unvaccinated residents if; 1) the COVID-19 county positivity rate is greater than 10 percent; and 2) less than 70 percent of residents in the facility are fully vaccinated.
Residents with confirmed COVID-19 infection, whether vaccinated or unvaccinated until they have met the criteria to discontinue transmission-based precautions; or
Visitors that test positive for COVID-19 or who's screening demonstrates exposure or symptoms of infection.
Residents in quarantine, whether vaccinated or unvaccinated, until they have met criteria for release from quarantine.
Should an outbreak occur visitation will be immediately adjusted. This adjustment could include temporary visitation suspension or modification as required by ODH, CDC or as the situation necessitates. Notifications of visitation suspension will be made to all POA's by Phonevite.
Compassionate Care Visit Guidelines
The Inn at Belden Village will comply with all Compassionate care visitation requirements issued in the Ohio Department of Health's Sixth Amended Director's Order to Limit Access to Ohio's Nursing Homes and Similar Facilities, with Exceptions until it is rescinded or amended further. The following shall apply to all compassionate care visitations:
Visitation permitted during compassionate care situations. Compassionate care situations do not exclusively refer to end-of-life situations. Examples of other types of compassionate care situations include, but are not limited to:
A resident, who was living with their family before recently being admitted to a Home, is struggling with the change in environment and lack of physical family support.
A resident who is grieving after a friend or family member recently passed away.
A resident who needs cueing and encouragement with eating or drinking, previously provided by family and/or caregiver(s), is experiencing weight loss or dehydration.
A resident, who used to talk and interact with others, is experiencing emotional distress, seldom speaking, or crying more frequently (when the resident had rarely cried in the past).
Residents who are on transmission-based COVID-19 restrictions may receive in-person compassionate care visits with adherence to transmission-based precautions (see Isolation Key to determine level of PPE needed for visit.)
All compassionate care visits shall be conducted using social distancing; however, if during a compassionate care visit, a visitor and Home identify a way to allow for personal contact, it should only be done following all appropriate infection prevention guidelines, and for a limited amount of time.
Through a person-centered approach, The Inn at Belden Village will work with residents, families, caregivers, resident representatives, clinicians, and the Office of the State Long-Term Care Ombudsman program to identify the need, length, and frequency for compassionate care visits.
Compassionate care visits should not be conducted on a routine basis, nor should these visits be used to substitute regular routine visits.
Anyone that can meet the resident's needs such as family members, clergy, or lay persons offering religious and spiritual support shall be permitted to participate in compassionate care visits.