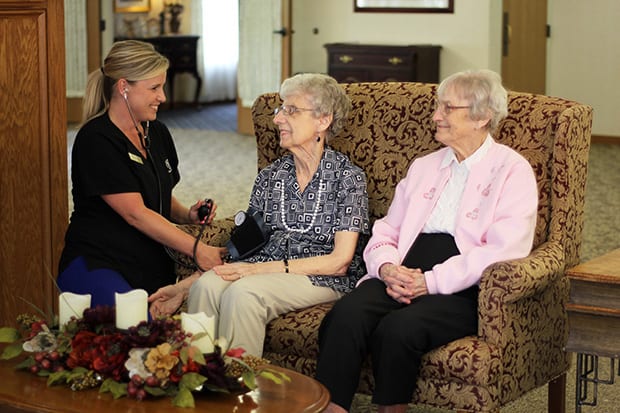 The Inn at Belden Village is an assisted-living residence with nursing care that is second to none. Our nurses and personal caregivers are specialized in the area of senior care. Each resident receives a personal care assessment designed to provide optimum health and safety. Assessments are reviewed and updated yearly or sooner if medically indicated by a physician.
Discover 24 Hour Nursing Care from an RN
Our experienced nursing staff is on duty 24 hours a day to care for the needs of each resident. Our nurse works in coordination with the instructions given by each resident's personal physicians. The nurse distributes medications and is responsible for contacting the physician and/or family when observing any changes in a resident's health or in the event of an emergency. Family members always receive notification of any changes with their loved one's health.
Receive Special Nursing Care from Trained Aides
Our nursing caregivers help residents with activities of daily living (ADL's). Help with dressing, grooming, incontinence, mobility, cognitive orientation, dietary restrictions and special support services are all part of the specialized nursing care provided at The Inn at Belden Village.
Each resident has a detailed plan tailored to meet their individual needs.and preferences. Our personal care staff provides compassionate staff gives as much assistance as one wants, as little as one needs while carefully preserving dignity.
Tour Our Assisted Living Residence and See for Yourself
Quality nursing care provided by highly qualified nurses and personal care staff is our priority. Contact us if you have any questions about nursing care or would like to know more about our community. We invite you to schedule a time to tour our beautiful residence home and dine with a free chef-prepared nutritious meal in our dining room. Speak with our head nurse about any medical concerns you may have. See for yourself the difference in our quality-care assisted living community.