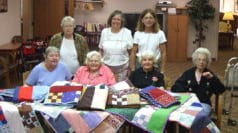 The Inn encourages community involvement through our large Volunteer Program. Volunteering is a perfect way to share your time, gifts and talents to help enrich the lives our residents. Time commitments are flexible and can range from as little as one hour one time to as much as one or more hours every day.
Volunteer to Make Someone's Day
Some of the volunteer opportunities for service include:
| | |
| --- | --- |
| Activity Assistants |  Educational Lecturers |
| Manicurists |  Entertainers |
| Bingo Caller |  Feeding Assistants |
| Book Club Leaders |  Friendly Visitors for one on one visits |
| Chapel Speakers |  Friends willing to Read Aloud |
| Chaperones for Outings |  Gardeners |
| Class Teachers |  Instrumentalists |
| Craft Preparation |  Letter Writers |
| Crafts |  Magicians |
| Dancers and Dance Troupes |  Painting |
| Decorating |  Sewing |
| Drama |  Singers |
| Drawing |  Woodworking |
| |  World Travelers to share experiences, movies and pictures |
For those interested in any of these volunteer opportunities, please fill out and submit the form below.
Share Your Talents and Gifts with Our Residents
If you have something else you would like to volunteer to do, feel free to ask about it, too. Contact us today with your ideas for other volunteer actions. Our staff will get back with you regarding the possibility of fitting your talents into our schedule.
Sign up for Our Volunteer Opportunities Today
Our process is for you to fill out an application and come in for an interview. We provide a short orientation. TB, drug and background screening may be required. We sincerely cherish our volunteers and encourage you to become part of our program. Learn more about us.
Volunteer Application Form