Chauffeured Transportation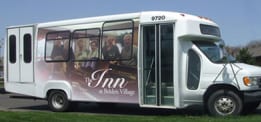 The ability to travel to doctor appointments, eat out at area restaurants, visit friends, or have a day of shopping at the mall are all an important part of a healthy lifestyle that can be quickly shut off when a senior has to move to assisted living communities. This can lead to negative feelings of being locked away from the world. At The Inn at Belden Village, we believe that our residents should continue to go to their events as long as they are able even though they no longer drive.
Having the ability to get around and travel to locations outside The Inn is important to our residents' health and well-being; therefore, The Inn at Belden Village has chauffeured transportation available. It can easily be arranged for our residents to travel to the places they need or want to go outside our residence. Travel is convenient and comfortable using our bus with wheelchair accessibility or by car. Chauffeured transportation is only one of the many community amenities we offer.
Travel Anywhere Within a 10 Mile Radius of The Inn at Belden Village with Chauffeured Transportation
Chauffeured transportation is available on Tuesday through Thursday and reserved for special community social outings on other days
Hours of service are 8 am to 6pm.
With advance notice, you can go to doctors' appointments, shopping, restaurants, etc. within a 10 mile radius of the residence
A 24-hour notice is required
Our bus is equipped with a wheelchair lift
The cost is $10 each way
For those needing special assistance, it can be arranged for a companion to accompany the resident. There is an additional cost for the caregiver at a per hour rate
Travel to Destinations Outside the 10 Mile Radius with Chauffeured Transportation
Occasionally there is a need to go someplace further away, and we make special accommodations to do that, too.
Chauffeured transportation is also available for those wanting to go to locations beyond the 10 mile radius
An additional cost per mile charge is added
Make the most of life by living it to the fullest every day.
Contact us for more information about our community and the many extras we offer. We'd love to offer you a free tour and an opportunity to dine in our beautiful dining room.