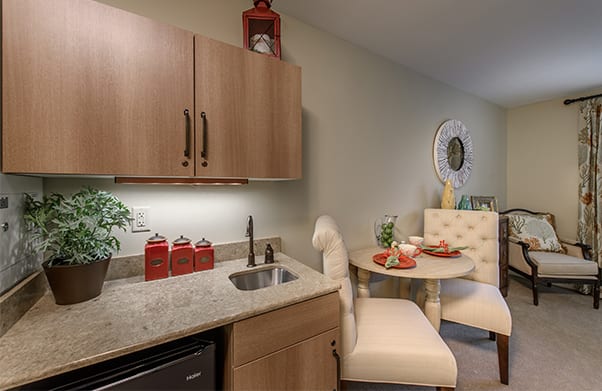 Assisted Living: Will it meet our needs?
At The Inn, our approach to assisted living begins with a belief in home. Every resident deserves to feel at home, and we've worked hard to create an environment that is less restrictive and more affordable than traditional nursing home care. Mostly, we've worked to create a place where residents feel safe, dignified and valued.
How do we do that?
We start with all of the basic needs: personal care, meals, housekeeping, laundry, maintenance, transportation, and social activities. We're also equipped to offer additional nursing care if needed: medication administration, special diets and physical care.
To flourish in an assisted living environment, residents may receive intentional physical care and supervision in the following areas:
Mobility:
It is necessary that residents be ambulatory or transferred easily with the assistance of one staff member. Walkers and wheelchairs are permitted; however, provision of these items is the responsibility of the resident. Residents may utilize the mobility assistive devices independently or with assistance for mobility/transportation purposes only.
Behavior:
The resident must be able to communicate their needs, be oriented to place or be able to respond to basic reorientation by the staff and cooperate with direction from the staff. The resident must be willing to comply with all facility policies and/or state and federal regulations. The resident must show respect for other residents, staff, and property. Any behavior that may jeopardize the health, safety, physical or mental welfare of the resident, other residents, or staff will jeopardize the resident's qualifications for residency.
Activities of Daily Living:
Activities of daily living include (but are not limited to) grooming, personal hygiene, and dressing. The Inn's policy requires that personal assistance with activities of daily living be provided and accomplished safely by the assistance of one person. Residents must be able to feed themselves and go to the dining room for meals.
Bowel/Bladder Control:
Residents with occasional incontinence problems are accepted if the incontinence can be contained. Residents must be willing to wear protection and accept assistance from the staff.
Medication Administration/Physician:
Medications may be kept and self-administered by residents with their physician's written permission. The nurse, at the physician's request, will administer medications in accordance with The Inn's policy. In addition, the nurse will contact the resident's physician and/or family to arrange for transportation to and from the physician's office or hospital.
The resident must have or obtain a physician and The Inn's health history and a physical form must be completed by the personal physical prior to admission. The Inn's policy requires that residents see a physician at least annually. The Inn's nurse must also complete a full health assessment on an annual basis, unless medically indicated sooner. Residents may choose The Inn's Medical Director as their primary care physician for convenience and on site visits.
Special Supportive Services:
Special services may include assisting with occasional oxygen needs, providing special dietary services, or any need that requires extra time from the staff on a daily basis.