Traditional Studio Suites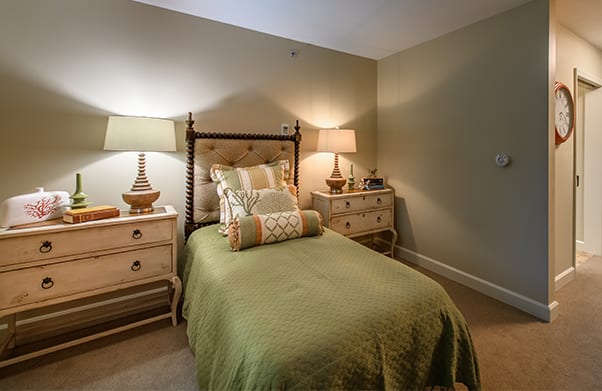 Live in style in our traditional studio suites. Rooms are designed with many special amenities for everyone's comfort and enjoyment. Every room has its own private entry, a kitchenette with small refrigerator, sink, microwave oven, and cabinet space, as well as, its own bathroom complete with a toilet, sink and shower.
With safety a priority, each suite is fully carpeted for easy wheelchair access and to reduce slippage. Plenty of storage and closet space allows residents to store their personal belongings. Adjoining studio suites may be available upon request.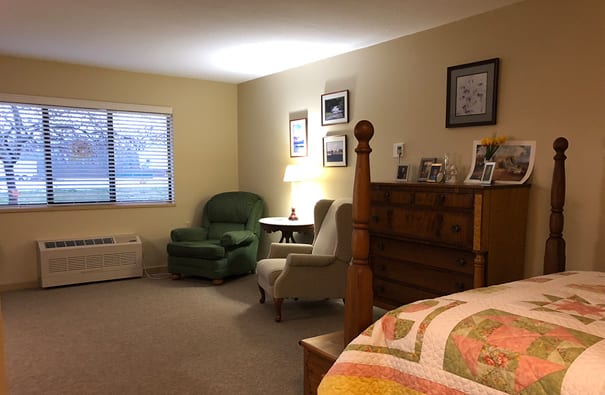 Personalize Your Suite
Bring your special belongings with you. We encourage our residents to make their rooms special and unique by decorating them with personal furniture, wall art, and other keepsakes. Display photos of family and happy memories to share with other residents and guests.
Find Privacy in Our Traditional Studio Suites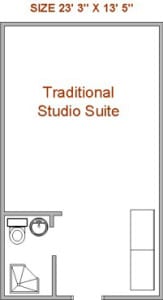 All suites have closing, locking doors for added privacy but open into a main interior corridor. Our caregivers and on-duty nurse are easily available if assistance is needed. All rooms come with:
Private entry
Classic kitchenette with cabinet space
Microwave oven
Full private bathroom
Easy wheelchair access
Carpet
Additional storage
Spacious closet space
View the Beautifully Landscaped Grounds From Our Deluxe Studio Suites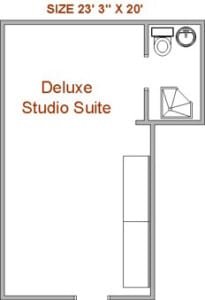 This is a room with a view. See our scenic landscaped grounds from your large window. The deluxe suite is more spacious than our traditional studio suite. Special features include all the features of the traditional studio suites plus:
Additional living space
Large outside window
View of picturesque grounds
Tour Our Traditional Studio Suites and Our Deluxe Studio Suites
Tours are available to view our traditional and deluxe studio suites. Contact us to schedule a time. See all the special amenities we have to offer. Enjoy a tasty, free lunch in our dining room.