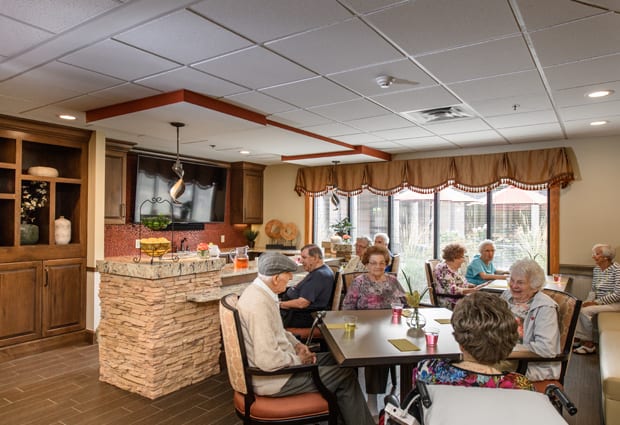 The true worth of an institution is best described by those who use its services. The following are excerpts from comments by our residents and their families that show who we really are. Feel free to contact us with questions or to arrange your a tour of our community!
My family cannot say enough about Nan Gammill and the Staff at the Inn at Belden Village! They are not only professional, but also caring, compassionate and treat their residents like family!! They provide a lovely living environment and have many activities on-site and off-site!

– Olga C.
Nan was able to get us in for a tour on the Saturday after Christmas. She gave up her personal time to see us and made us feel welcome. When we came for a tour, we liked that the facility was very clean and smelled great. We also appreciate the convenience of in-house physical therapy so my mom doesn't have to worry about going out.

– Leah R.
For a lucky few, there is a new family at The Inn at Belden Village. The minute you walk in the door, a friendly staff will greet you. You can be sure all questions will be answered. Once you move your loved one into the new room, all worries are over. Our loved one now has three meals a day, laundry services, transportation, medication administration and yes, even a place to get his hair cut. Living in Florida, we can smile as we drive down the highway knowing we made the right choice for our loved one.

– Richard
The staff and aides have been very helpful, and The Inn at Belden Village is infused with a spirit of kindness, good humor, patience and compassion. They have shown a willingness to work with our family on a variety of issues and have communicated with us every step of the way. It's impressive that so many of the team are continuing their professional training.

– Kathy
My family & I would like to extend our great appreciation to all of you for your kind attention and care you extended to our mother while she was living at The Inn at Belden Village. I know from my standpoint, I never had any difficulty sleeping at night knowing she was in your care. She was always a peace and never had one complaint about the staff or care. You gave her a lot of love and attention that made her stay very enjoyable. You all are a very special group and should be very proud of your work. From the family point of view, you couldn't have been more supportive. You made our experience very enjoyable in sometimes very trying circumstances.

– James
The residents' comfort and security are the priorities of the caretaking team, and each nurse, aide, administrative person, and dining room server is friendly and takes an interest in each resident. Even the maintenance genius has a great personality and has been outstanding.

– Kathy
The care and concern you always showed us was much appreciated. Sometimes we needed that extra support and your staff was always there for us with a kind word or an ear to listen. We always knew that Mother was being well cared for and loved even when we were not present. Mother always was clean — hair groomed, nails done, dressed well. She would have appreciated the extra items like jewelry and shoes matching her outfits that the staff made sure happened. We're so glad the staff cared enough to use them. Your service to our community is outstanding. We have been in other communities with others of our loved ones, and no one compares to the employees you have to care for someone's special loved one.

– Sally & Tom
Thank you all for making Mom's last eighteen months as enjoyable and comfortable as possible. We were able to feel confident that she was receiving the best care possible in a warm, friendly and Christian atmosphere. Many who came to visit her at The Inn said they would choose the Inn if they ever needed to have Assisted Living. Everyone she, and we, encountered was competent, caring and helpful. I was touched by that some of your aids would sometimes put warm water in her foot bath and rub her feet to comfort her in the evening –such a parallel with Jesus. We have only good things to say about our experience with all of you. You are surely doing the Lord's work!

– Susie
I would like to tell you about a telephone call that I recently received. It was from my Mom and Dad's financial advisor. He lives in Cincinnati but stops in to visit with them from time to time as well as review their finances. He called me on his return trip home to Cincinnati.
He wanted to inform me of his experience that day at The Inn at Belden Village. The first words out of his mouth were, "No comparison." Of course, this person has no allegiance with either facility, and, in the past had never voiced his opinion regarding where they were previously living. He was quick to voice his opinion of The Inn at Belden Village versus their previous residence.
He could not believe the difference. The one thing that impressed him the most was the staff. He went on to explain during his visits to a different facility, he simply did not recall ANYONE EVER saying a simple "Hello" or acknowledging him, not when he entered the building, not when he would pass a staff person in the hall, not once he arrived at my parents various wings. I concurred 100% with his opinion. As he explained, he always found it odd when he would pass a staff person in the hall they would always look down at the floor as if they had been told not to acknowledge anyone. We both commented that it was completely the opposite at The Inn at Belden Village. It makes no difference whom that person might be, it could be the CEO or a person simply helping to take out the trash, a smile accompanied with a friendly greeting is always there. I can not possibly exaggerate just how important that is to visitors.
Something else that I frequently notice on my visits to The Inn at Belden Village. There could be the smallest piece of paper or trash, it might even be positioned up against the wall, as I watch a staff person from The Inn on their way to attend to a daily task, stop what they are doing, to pick up that insignificant piece of trash and properly dispose of it. Please believe me, for a bystander, that speaks volumes not only about the agency, but even more so about that person. I will also say, if I notice those acts of pride at your workplace, so do others.
Maybe most important, I have witnessed a noticeable difference in both of my parents. Never did I ever think that my Mom would even remotely consider playing BINGO, she HATES BINGO. But she tells me all about playing BINGO in her emails. Regarding my Dad, well my Dad acts as if he just won the lottery. In fact, he has literally said to me in the past that he feels like he hit the lottery when I ask him about living there. When I frequently ask him how things are going, he immediately perks up with pride about living at The Inn at Belden Village. Both were very unhappy at their previous residence. I am extremely grateful to EVERYONE at The Inn at Belden Village. Maybe in life we don't say THANKS enough. THANKS!
It is my hope that you will share this with your staff. It is easy to see that they all contribute to the well being of all at The Inn. No matter what your role might be, you are a very important part of a TEAM that makes up the happiness of your residents. Even a person such as a financial consultant from Cincinnati, Ohio, can easily see that it is a TEAM effort and all of your team is to be commended.

– Scott