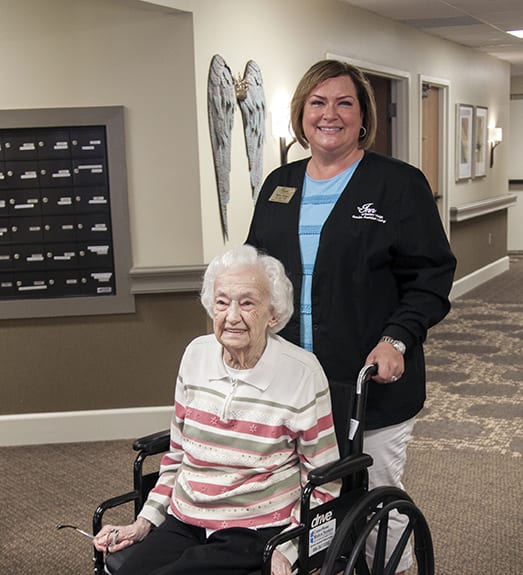 When our loved ones come to a point in life when they are no longer able to live independently, an assisted living community offers the senior care services needed. The Inn at Belden Village is part of a complete aging in place community. When a resident is admitted into our residence, an individualized care plan is created. Our nursing and personal care staff provide the precise senior care needed.
As medical and physical needs change, the service plan, as well as, delivery of care is updated. We have a complete line of services available to meet the changing individual needs of our residents. Senior care services include:
Assisted Living
Respite Care
Nursing Care
Hospice Care
Discover Premium Assisted Living Residence
Our assisted living community provides seniors who need assistance with daily routines a residence with many senior care services. This is a perfect transition for those that can no longer live independently but do not need the constant care of a nursing home. Our staff of nurses and aides help with activities of daily living (ADLs) that may include:
Bathing
Dressing
Laundry
Housekeeping
Meal Preparation
Mobility
Medication Administration
Incontinence Care
Get Short-Term Help with Respite Care
Our respite care program provides a short-term place for at-home caregivers to send a loved one needing constant care. Our experienced staff provides 24 hour care while caregivers travel out of town, are away for an extended time or just need a break from the around the clock responsibilities of watching a loved one. Our care staff can also make a difference for those who need more recovery time after a hospital stay before returning home. The Inn at Belden Village can provide respite care when suites are available. A minimum 30-day stay is required.
Receive 24 Hour Nursing Care
Our excellent staff of nurses and personal caregivers specialize in senior care. Our nurses work under the instruction of personal physicians to deliver medications., provide simple dressing changes, monitoring health conditions and providing first aid and emergency care when needed. They are also responsible for coordination of outside health care providers, contacting the physician and/or family to arrange transportation to and from the physician or hospital, coordinating home health therapists and hospice caregivers.
Find Specialized Hospice and Palliative Care
Hospice care is provided for residents who become terminally ill with health conditions that have no treatment. For residents with a life expectancy of six months or less, our staff works as a team with hospice and palliative care agencies to provide the most compassionate, dignified care available and to allow residents to age in peace.