Our Exceptional Housekeeping and Laundry Services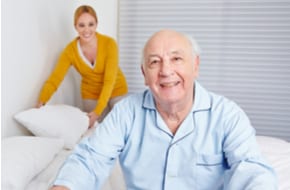 Cleanliness is top priority at The Inn at Belden Village. We know cleanliness is important to healthiness, and strive to provide the safest environment possible. We know our residents are here to receive special treatment, and many of them are not able to clean or do laundry. Therefore, as a special part of our community, they are pampered in every way.
To keep our residents' suites clean and tidy, all the daily tasks of life are taken care of by our friendly, competent staff. All our staff at The Inn at Belden Village are thoroughly screened and trained in sanitization.
Each suite is routinely checked daily to keep our residence sparkling clean and sanitized.
Relish the Thought of Laundry and Linen Cleaning Services
Personal laundry is done twice a week and returned to individual rooms
All bed linens are laundered weekly, or sooner, if necessary
Towels and washcloths are removed each morning and replaced with clean ones
Delight in Our Special Touch Housekeeping
Every suite is thoroughly cleaned on a regularly weekly basis. If a room needs special attention within the week, a staff member will come by for additional cleaning
Beds are made each morning
Resident's bathrooms in each suite are refreshed daily
All trash is removed daily
If residents enjoy cleaning and want to clean their own suites, they are welcome to help participate. Many of our residents enjoy taking care of themselves, and we encourage them to do so as long as they are able.
Housekeeping and laundry services are only two of the many community amenities we offer.
Contact us for more information or to arrange for a free tour and dining room experience.