To serve our residents as if we are caring for our own mothers and fathers.
It is our mission.
Welcome! Discover the Difference.
Entering The Inn at Belden Village, you'll see and feel the difference — nurturing, love, caring, family and faith. Residents experience physical and emotional transformation providing peace of mind to families who see a loved one happy, socializing, eating and safe for the first time in a very long time. See the difference:

Important Questions: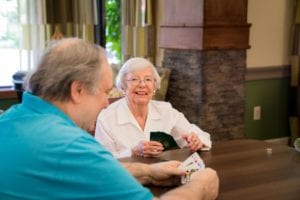 Nurse on duty 24 hours a day
Fun-loving caregivers helping with everyday needs like bathing, dressing, getting around
Activities throughout the day
Chauffeured transportation to doctors, shopping, dining and recreation
Private suites and areas to visit that feel like home
A caring staff providing meals, housekeeping, laundry and personal care
Amenities like a beauty shop, spa, library, chapel, theatre, courtyard, health & wellness room and much more
Take the Video Tour
See our beautiful community and hear our resident's comments about the Inn. Tour our private suites, beautiful patio, great room and fireplace, dining room and more as you discover the splendor and warmth of The Inn at Belden Village.
What Families Say.
The best reference is from our residents and their families.
If you are looking for the best Assisted Living Community, you might as well stop looking around; you will never find any place better than this. We're all family here, and they treat us like kings and queens! I should know. I've lived here for nearly 8 years.